CBD Supplements
Softgels - 50mg CBD
Backed by over 20 years of hemp leadership, our CBD Softgels offer a simple way to include Broad Spectrum Hemp Extract into your daily wellness routine.

50mg CBD per vegan softgel, 1500mg CBD per bottle
CO2 extracted from non-GMO U.S. hemp
THC Free (less than 0.01% THC)

3rd-party tested. Certificate Of Analysis.
Broad Spectrum Hemp Extract works in harmony with the human body to promote balance, resilience, and wellbeing. Our softgels are an efficient way to incorporate the life-enhancing benefits of CBD into your daily routine in consistent serving sizes. Learn more about Broad Spectrum Hemp Extract and CBD on our CBD Education page.
Our Broad Spectrum Hemp Extract Softgels are made with Organic Hemp Seed Oil. Other ingredients: glycerin, modified corn starch, purified water, carrageenan.
Just swallow with a sip of water and you're all set. It's like a little love letter from hemp, in softgel form.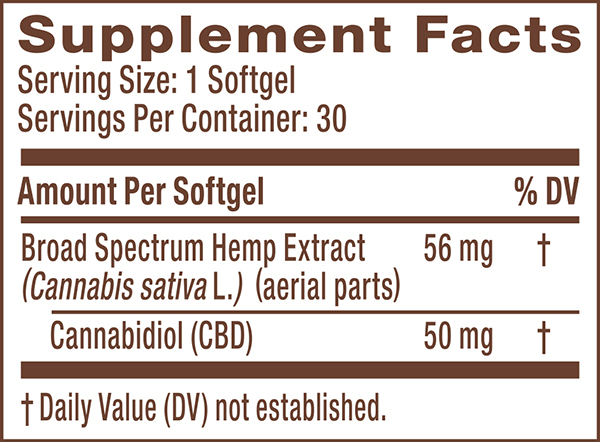 FAQs
How do I use Broad Spectrum Hemp Extract Softgels?
One CBD Softgel offers a portable, consistent serving size that can be simply incorporated into your existing wellness supplement routine. They have a smooth consistency, no flavor and are easy to swallow with a sip of water.
How many softgels should I consume?
It depends! As in all relationships, each individual has their own unique needs. You may want to start with 1 CBD Softgel per day and possibly increase from there until you notice positive effects (1 Manitoba Harvest Broad Spectrum Hemp Extract Softgel contains 15 mg of CBD). Some people like to combine a daily CBD Softgel with Manitoba Harvest CBD Oil Drops or CBD Oil Sprays for daily serving size flexibility and augmentation. Consider keeping a journal to track your response as you experiment. What ingredients are in each softgel?

Each vegan softgel is made with Broad Spectrum Hemp Extract and Organic Hemp Seed Oil, and contains 15mg of CBD. Other ingredients include glycerin, modified