CBD Supplements
Spray - 5mg CBD/serving
Backed by over 20 years of hemp leadership, our easy-to-use CBD Spray makes it easy to include Broad Spectrum Hemp Extract in your daily wellness routine. Create a sense of balance and calm a busy mind with our CBD Spray that's perfect for on-the-go self-care.

Delivers 5mg of CBD in 1 serving (4 pumps), ~60 servings per bottle
CO2 extracted from non-GMO U.S. hemp
Flavored with organic peppermint oil

THC Free (less than 0.01% THC)
3rd-party tested.

 

Certificate of Analysis.
Broad Spectrum Hemp Extract works in harmony with the human body to promote balance, resilience, and wellbeing. Our Spray combines versatility, consistency, and portability for at-home or on-the-go use. Learn more about Broad Spectrum Hemp Extract and CBD on our CBD Education page.
Our Broad Spectrum Hemp Extract Spray is made with simple, clean ingredients: Broad Spectrum Hemp Extract, Organic Coconut MCT Oil, and Organic Peppermint Oil. Spray offers flexibility for playing and experimenting: put your creativity to work!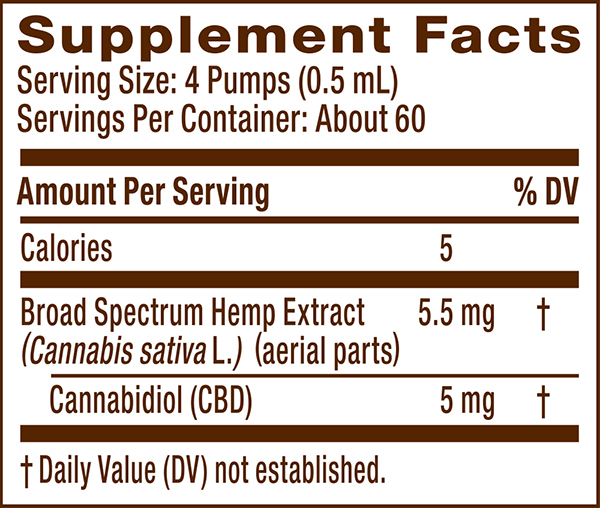 FAQs
How do I use Broad Spectrum Hemp Extract Spray?
Our Peppermint CBD Spray comes in a convenient pump bottle that produces a small amount of oil (as opposed to a mist). It can be enjoyed by spraying beneath the tongue and holding the oil there for 30 seconds before swallowing. You can also add the CBD Spray to your morning mug of coffee or evening cup of tea, a smoothie, or jazz up your favorite mocktail. The Peppermint CBD Spray has a refreshing and energizing taste that makes it a pleasure to enjoy on its own or blended with complementary flavors.
How much spray should I use?
It depends! As in all relationships, each individual has their own unique needs. You may want to start with one or two servings of 4 pumps each of the CBD Spray per day and increase from there until you notice positive effects (four pumps contains approximately 5 mg of CBD). Some people opt to divvy up their daily serving, taking half in the morning and half in the evening, while others prefer to take a single serving as part of their daily wellness routine. Consider keeping a journal to track your response as you experiment.